HEALTHY STAFF = A HEALTHY BUSINESS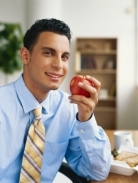 'Fruit Guys' deliver the freshest, export quality, delicious hand-held fruit direct to your workplace.
Keep your team energized and healthy by offering a healthy choice for snacking at work.
Studies show that eating fresh fruit increases your concentration and productivity. Providing delicious fresh fruit at work will reduce sick days and reward your team for their hard work.
Good staff are hard to find and even harder to hold on to. We can help you take better care of your staff. A 'Fruit Guys' fresh fruit pack, is probably the most cost effective and healthy staff benefit you can provide. The team will love you for it!
The work places of New Zealand are hungry for the mouth watering taste of fresh fruit to enjoy throughout the working day. So what are you waiting for, call us today!